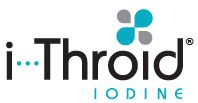 Chosen by Doctors.
Requested by Patients.
i-Throid® is a superior iodine formulation created to enhance thyroid treatment and offer long-term, consistent results.
i-Throid® contains the ideal balance of iodide and free elemental iodine which is highly absorbable and binds with tyrosine to produce thyroid hormones.
i-Throid® works synergistically with Nature-Throid® and a-Drenal® to offer a well-rounded, highly effective thyroid treatment protocol.
Suzy Cohen, RPh, "America's Pharmacist" talks about Iodine Deficiencies
---
With over 80 years of trusted medications and doctor approval, RLC Labs® is dedicated to formulating comprehensive and effective support formulas that work with the body and its natural healing processes.
i-Throid® can be used alone or with a-Drenal®. i-Throid® can also be used in conjunction with Nature-Throid® to promote wellness and complete thyroid symptom relief.
i-Throid® Supplement Facts - 12.5 mg
i-Throid® Supplement Facts - 6.25 mg